AGUADULCE, Panama — The Panamanian Baseball Federation named an initial list of 30 players who will potentially represent the nation in the WBSC U-23 Baseball World Cup 2016®, which will take place from 28 October to 6 November in Monterrey, Mexico.
The U-23 world championship will be the top international baseball competition of the year and will distribute 690 world ranking points — the third-highest award, behind the PREMIER12® and the World Baseball Classic — to the winner.  It is the first time that Panama will compete at For the Title of World Champion in the U-23 category.
Under Panama manager Arístides Bustamante, U-23 National Team trials began last Wednesday (21 September) at Estadio Remón Cantera in Aguadulce, and more top players are expected to join the trials.
"We are waiting on the permission of our pro players to see whom we can count on to form the [24-man roster]," said federation general manager Anibal Reluz.
Group of Death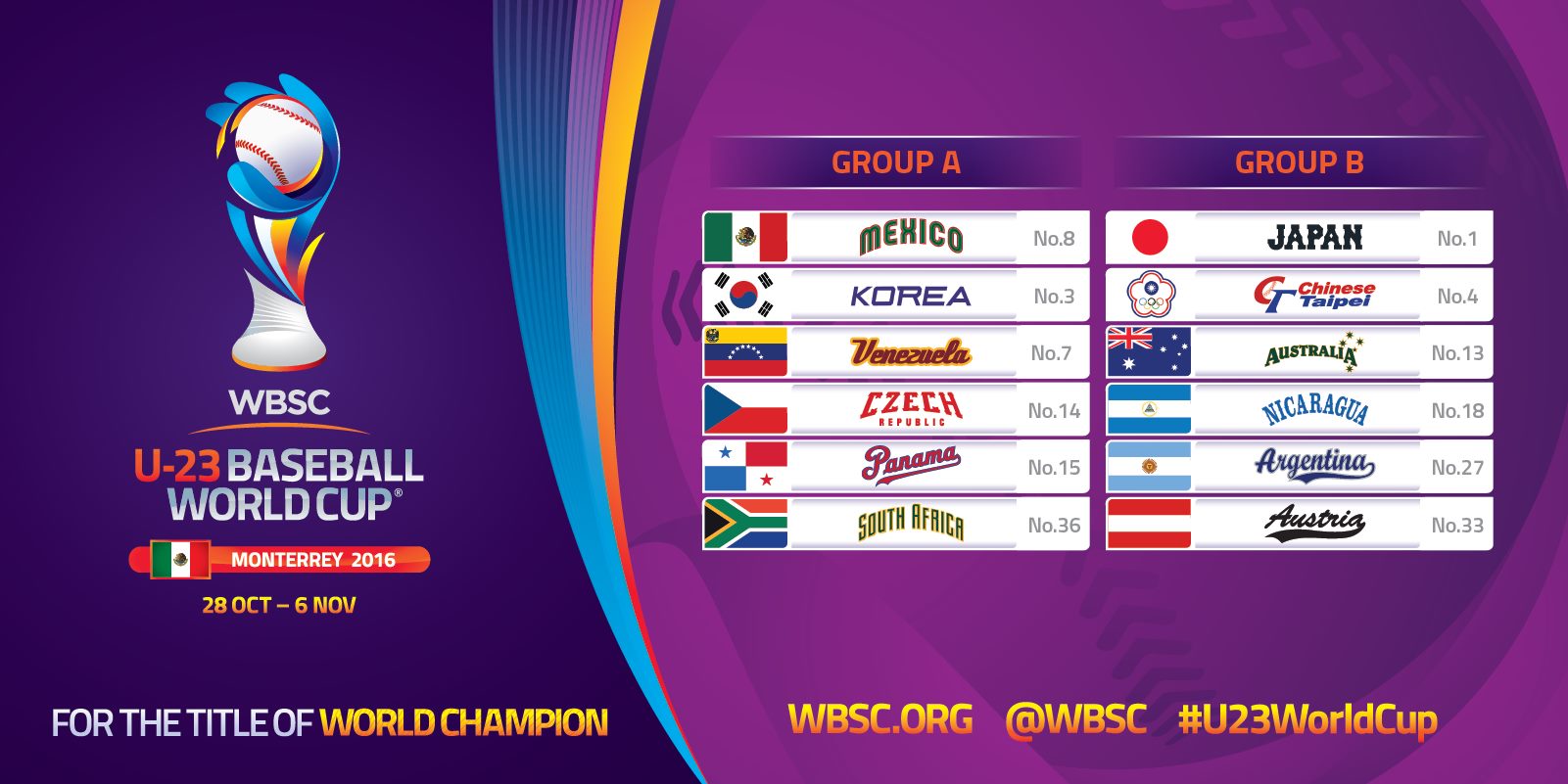 According to media in the Central American country, world No. 15 Panama has been drawn into the "Group of Death", Group A, which features three Top 10 baseball powerhouses: No. 3 Korea, No. 7 Venezuela and No. 8 Mexico. Also in the group, No. 14 Czech Republic had its highest-ever World Cup finish, 5th Place, at the U-21 Baseball World Cup 2014.  The strongest nation out of Africa, No. 36 South Africa is also in Group A. Only the top three finishers from each group will advance to the Super Round group stage.
The inaugural U-23 world championship in Monterrey, Mexico, is an expansion of the U-21 Baseball World Cup, which was launched in 2014. At the U-21 world championship in 2014, the rosters of National Teams included players from clubs affiliated to the Australian Baseball League, Chinese Professional Baseball League, Korean Baseball Organization, Major League Baseball, Mexican Baseball League, Nicaraguan Professional Baseball League and Nippon Professional Baseball.
Follow the Panama National Baseball Team on Facebook and Twitter.