WBSC President Riccardo Fraccari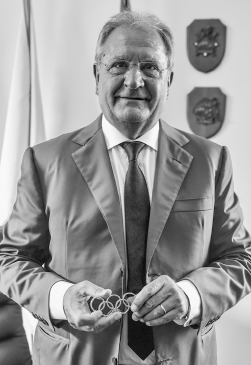 Riccardo Fraccari
born May 30, 1949 in Pisa, ITA
Is a world sport administrator, holding various high-ranking positions, most notably as president of the World Baseball Softball Confederation.
Dear Friends,
In 2013, when we decided to merge the Baseball and Softball worlds into one unique organization – the World Baseball Softball Confederation –  a New Era for our sports was born, and I want to thank all of you, not only for having received your approval and your support, but especially for sharing a common vision and recognizing a need for change.
Certainly with the recent changes to the Olympic program and especially IOC Agenda 2020, there is a need for restructuring and also a need to locate alternative revenue sources in order to ensure the development of our sports. We find the international game of baseball and softball at a crossroads, now unite under unique objectives and development hopes and plans. We need to reunite our community to work as a team and strengthen our relationship with the professional bodies. Greater participation of professional organizations and their players could have a major impact play in our community and would significantly improve the current state of international baseball and softball.
We need to redefine and maximize the value of our tournaments; we must continue to develop baseball and softball, both male and female, especially in countries where we are less present; we must strengthen and develop all our disciplines that are involving more and more athletes daily; we must restructure the entire organization of our institution to be more efficient and attentive to the problems and needs of our members; we must demonstrate that baseball and softball are truly a global sport that involves millions of male and female athletes, coaches, fans, families and youth worldwide. It is a sport present on all continents, capable of attracting the attention of newspapers, television and sponsors because of its universality and because it is widespread. It is a sport that shall always embrace and develop in harmony with the Olympic values, and we will all be fully active toward the return of our sport onto the Olympic programme. We are also aware that the choices and decisions that the new Executive Board and I make together will have far reaching effects on the shape and visibility of the organization.
However, this predicament highlights the need for us to work together with all those involved.
Challenges are ahead of us, but I am confident that with support from all of you and my new team, we can overcome this outstanding moment. Together we can flourish WBSC and establish a new baseball and softball society where each of you plays an integral role. Once again, I thank all of you who supported WBSC and me. It is my hope that your involvement and support will remain steadfast. I encourage all of you to voice your opinions as to our future. The thoughts, comments and suggestions of the international baseball and softball community are always welcomed and encouraged.
Regards, Riccardo Fraccari
President, World Baseball Softball Confederation
Member, Italian National Olympic Committee (CONI) Council
Chairman, CONI International Relations Exploratory Committee
Secretary General, Association of (IOC) Recognised International Sport Federations (ARISF)
Member, Sport Accord Council
President, Italian Baseball Softball Federation (2001-2016)
Member, World Baseball Classic Steering Committee
Member, Doha GOALS Advisory Board
Fraccari was previously Professor of Organic Chemistry, Technical Industrial Institute.
Riccardo Fraccari was elected first-ever president of the World Baseball Softball Confederation – the world governing body for baseball and softball, as recognised by the International Olympic Committee, on 10 May 2014. He has led WBSC's proposal for baseball and softball's inclusion on the 2020 Olympic Games Programme, one of the chief components of his election manifesto.
Served the Italian Baseball Softball Federation from 1985 to 2016, as the National Federation president from 2001-2016—and having participated in 7 Olympic Games as a baseball official—Fraccari was voted into office as president of the International Baseball Federation in December 2009.
As IBAF President, Fraccari immediately set out to hold merger discussions with the International Softball Federation (ISF) and oversaw negotiations to consolidate international baseball and softball to establish the World Baseball Softball Confederation (WBSC) in December 2012.
Fraccari has focused IBAF's efforts on strengthening collaborations with the preeminent professional baseball leagues, introducing new legislation before the 2011 IBAF Congress to add a new membership category for these prestigious entities to fall under the umbrella of the IBAF.
He led IBAF's negotiations for a multi-year, multi-million dollar agreement with USA's Major League Baseball for the sanctioning of the World Baseball Classic and the inclusion of a qualification system that incorporates 12 additional National Teams, extending the WBC platform to 28 of WBSC's Member Federations.
To further protect IBAF's intellectual property rights, Fraccari called on the IBAF to pass stronger regulations to ensure international club competitions are not marketed as National Team events.
The IBAF, under Fraccari, established a Baseball World Cup for the Under-12 category in 2011, and the large success of the inaugural championship has quickly raised its profile within the IBAF tournament structure and has reinforced a commitment to youth and baseball's short- and long-term international expansion.
Fraccari was re-elected in April 2013 as the international baseball leader.
Under Fraccari, the world governing body for baseball established the first-ever "Europe" branded team to compete in officially recognized international competitions, which set a historical precedent.
Fraccari also dedicates his time to serve on or chair other executive boards in world sport, including such roles as leading International Relations for the Italian National Olympic Committee and Secretary General of ARISF. In April 2015 in Sochi, Fraccari was elected as a board member of the SportAccord Council.
Fraccari speaks English, French, Italian (native), and Spanish.
Gold Star of Sport Merit granted by the President of the Italian Olympic Committee.
Knight of Merit of the Italian Republic.
Inducted into the Hall of Fame of the Italian Baseball Softball Federation.
WBSC
2014-present Riccardo Fraccari ITA
2013-2014 Co-Presidents, Riccardo Fraccari ITA – Don Porter  USA
Baseball
2009-present Riccardo Fraccari ITA
2007-2009 Harvey Schiller USA
1993-2006 Aldo Notari ITA
1981-1993 Robert E. Smith USA
1976-1979 Manuel González Guerra CUB
FEMBA: 1975 Carlos J. García NCA
FEMBA: 1973-1974 William Fehring USA
FIBA: 1969-1975 (FIBA from 1973 to 1975) Juan Isa NED
1953-1968 Carlos M. Zecca  CRC
1951-1952 Pablo Morales VEN
1948-1950 Chale Pereira NCA
1946-1947 Pablo Morales VEN
1944-1945 (FIBA) Jorge Reyes MEX
1939-1943 Jaime Mariné CUB
1938 (IBF) Leslie Mann USA
Softball
2013-present Dale McMann CAN
1987-2009 Don Porter USA
1965-1986 W.W. (Bill) Kethan USA